BioEnergetic Evaluation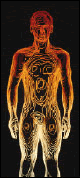 When we begin to realize that illness often begins with subtle imbalances in the human energy field, completely undetectable through conventional medical tests, we can understand why prescription medication and surgical procedures (often life saving in the gravely ill or injured person) need to be complemented with "bioenergetic" methods for comprehensive patient care.

Whereas surgery is aimed at the level of structural anatomy, and pharmaceuticals at the level of cellular biochemistry, bioenergetic methods work with the electromagnetic component of the body. All substances, whether living or non-living, emit electromagnetic frequencies based on the amount and rotational speed of their atoms. Every specific tissue and organ in the human body has its own individual electromagnetic frequency.
---
---
Stephanie Burns Meridian & Chakra Balancing Post Office Box 161Munroe Falls, OH 44262 330-928-5312 fax: 530-463-7875 www.msatest.com Electrodermal Screening, Bioenergetic Evaluation, Meridian Blanacing, Chakra Balancing, Biofeedback
BioMeridian, Draper, UT, MSA Operator, 2002Pure Panacea, Columbus, OH, MSA Balancing, 2002Dr. Eric Pearl, Cincinnati, OH, Levels I/II, 2001University of Akron, BFA, 1994
---


Namaste
I honor the place in you in which the entire universe dwells.
I honor the place in you which is of love, of truth, of light,
and of peace. When you are in that place in you,
and I am in that place in me,
We are One.
---